AAFA Announces New Health Equity Program Sites Serving Communities Facing Highest Burden of Asthma and Allergic Diseases
The HEAL initiative continues to address disparities in asthma and allergic diseases by funding community-based programs
---
Washington D.C., May 2, 2023 — Today, on World Asthma Day, the Asthma and Allergy Foundation of America (AAFA) announces the second round of awardees to be supported through AAFA's Health Equity Advancement and Leadership (HEAL) program. This initiative bolsters AAFA's commitment to drastically reduce health disparities in communities with the heaviest asthma and allergy burden.
AAFA's HEAL program identifies and funds community-based health interventions tailored to at-risk populations most impacted by asthma and allergic diseases. Now in its second year, AAFA has selected two new programs in New York and Alabama to be funded through HEAL.
"With the release of our Asthma Disparities in America Report in 2020, AAFA raised awareness about health inequities and accelerated strategies to make a difference in asthma disparities," said AAFA's CEO and president Kenneth Mendez. "What we learn from our HEAL sites is crucial to support our vision of creating sustainable solutions that foster health equity. With the addition of our new site in Alabama and growing our work in New York, we are adding to our understanding of how asthma impacts communities."
The first program to be confirmed for this new round of HEAL funding will be implemented in New York City in collaboration with AIRnyc. AIRnyc is a community-based organization with over two decades of practice developing its Community Health Worker (CHW) model of care. AIRnyc will develop a unique asthma care intervention targeted toward the Hispanic population in the Bronx and surrounding areas. In high-poverty neighborhoods of the South Bronx, Hispanic communities comprise the largest racial and ethnic group that bears the highest burden of asthma-related morbidity.
 "The mission of the AIRnyc Community Health Worker care model is to meet people where they live to connect families to care and build health equity at the individual, family, and community levels," says Lola Simpson, CEO of AIRnyc. "This award means a lot to our community and for AAFA's continued commitment to reducing health disparities.  We look forward to working together to improve health outcomes in the Bronx for Hispanic residents living with asthma. We are thrilled to continue our partnership with AAFA," says Simpson.  
In addition to New York City, the new round of HEAL funding will support a new program in Alabama using a virtual model to complete asthma management home visits and provide asthma health education. The program will build a community health worker network to address the rural health disparity needs through collaborations with schools, local and state departments of health, and other state-based organizations and partners.
As these new programs are launched in New York and Alabama, AAFA will continue to support and work with the existing four HEAL programs in Detroit, Chicago, Los Angeles, and St. Louis. Though these interventions are still in progress, early enrollment and evaluation data from these sites show that these programs are reaching adults and adolescents with asthma experiencing disproportionate burden of asthma. Many participants in the programs report having competing priorities and needs relating to their health. Food security, the risk of losing utilities, and the lack of reliable transportation are a few of the competing priorities households are facing that can conflict with their asthma management. Additionally, exposure to outdoor and indoor pollution continues to be a barrier to asthma management.
"We are excited about the progress the first four HEAL programs have achieved to develop culturally relevant asthma education and provide indoor environmental control and health care assistance," said Sanaz Eftekhari, AAFA's chief business development officer and vice president of research. "With the expansion of HEAL, AAFA is demonstrating a strong commitment to promoting health equity by funding a project focused on Spanish-speaking communities and another supporting rural areas."
The expansion of the HEAL initiative comes as AAFA joins in the celebration of World Asthma Day (May 2). This year's theme is "Asthma Care for All" and HEAL is focused on improving access to care for all people with asthma.
The second year of AAFA's HEAL initiative is supported by Amgen, AstraZeneca, Genentech, Sanofi, and Regeneron.
The HEAL awards are part of AAFA's strategic focus to improve health equity for underserved populations. In 2020, the organization published a 15-year update to its Asthma Disparities in America report which outlined nearly 70 strategies to improve asthma health in underserved populations.
To learn more about AAFA's HEAL program and health equity work, visit: aafa.org/healthequity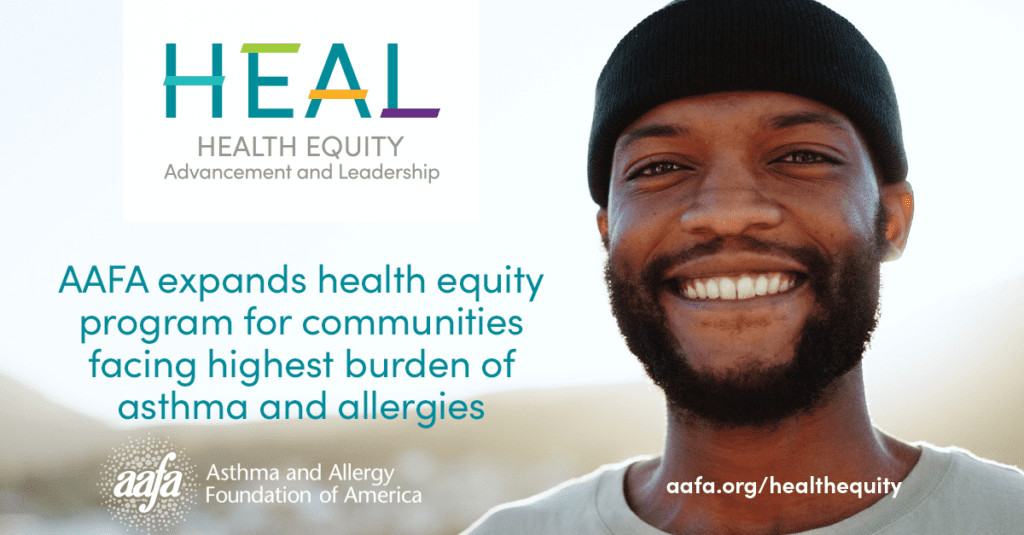 ---
Press Contact:
Andy Spears
Asthma and Allergy Foundation of America (AAFA)
gro.afaa@aidem
About AAFA
Founded in 1953, AAFA is the oldest and largest non-profit patient organization dedicated to saving lives and reducing the burden of disease for people with asthma, allergies and related conditions through research, education, advocacy and support. AAFA offers extensive support for individuals and families affected by asthma and allergic diseases, such as food allergies and atopic dermatitis (eczema). Through its online patient support communities, network of local chapters and affiliated support groups, AAFA empowers patients and their families by providing practical, evidence-based information and community programs and services. AAFA is the only asthma and allergy patient advocacy group that is certified to meet the standards of excellence set by the National Health Council. For more information, visit: aafa.org