My Life With Food Allergy
The public health burden of food allergies (FA) among children in the United States continues to grow and is an area of active research.
The current estimates are that food allergy affects 32 million people in the U.S. (6 million children and 26 million adults).1,2 It is critical that we discuss better ways to not only manage it, but to also better support people with food allergies and their families.
In 2019, the Asthma and Allergy Foundation of America (AAFA) and its food allergy division, Kids With Food Allergies (KFA), conducted a three-part food allergy study titled "My Life With Food Allergy." These surveys aimed to understand the burden of food allergy from three populations: parents of children with food allergies, teen/young adult patients with food allergies and adults with food allergies.
This survey sought insights on the following topics:
Experience with FA diagnosis, symptoms and allergic reactions, current treatments
Emotional, social, financial impact of FA on the caregiver (parent)
Parent-reported emotional and social impact on the patient (child)
Challenges in navigating school, dining and social activities
Confidence in daily FA management
Awareness of and thoughts about future treatment
The first report from this study – the My Life With Food Allergy: Parent Survey Report – summarizes the emotional, social and financial impact on the parent or caregiver of a child with food allergies. This document focuses on select data from the parent survey. In some sections of the report, data from the patient surveys have been included for comparison.
The report analyzed responses from 1,234 parents of children with food allergy, resulting in three key findings.
Key Findings
Due to the breadth of topics covered by the survey, responses provided a great deal of insights into patient and caregiver experiences, beliefs and knowledge. Throughout this report, the most notable data presented will focus on these three key findings:
Mental and emotional impact of food allergy on parents is greater than the impact on patients themselves.
Parent caregivers report a higher burden than do patients age 13 and over.
FA has a major impact on many parents' mental, social and emotional well-being.
Fear, anxiety and worry were common themes throughout the survey's responses from parents.
Food allergies have considerable impact on parents' social lives.
Families experience a loss of normalcy leading to adjustments in decision making and daily routines.
Parents report skipping events including school functions due to food allergies.
Birthday parties, traveling, dining out and entertainment activities present challenges for parents.
Food allergies cause significant financial strain and time burden for parents.
For some families, daily realities and needs for caring for children with FA present a major financial burden.
Some families have had to make career decisions based on FA, leading to negative financial impact on the entire household.
FA can also present a major time burden for some families.
Some additional detailed findings from the report include:
33% of parents did not feel comfortable asking for help when needed
44% say they or their spouse had to make a career choice (such as quitting or changing jobs) in order to care for their child
59% felt they could never let their guard down
74% said eating out was challenging
75% of parents said food allergies give them fear and anxiety
82% changed family traditions because of food allergy
82% of parents think about food allergies all the time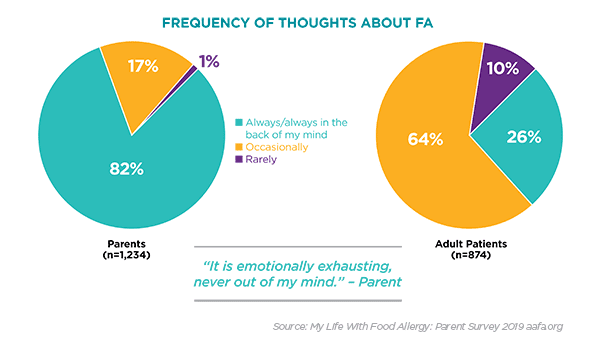 "It is becoming increasingly apparent how food allergies negatively impact the life of not only children and adults with allergies, but also their families and caregivers," stated Kenneth Mendez, AAFA's CEO and President. "School social activities, going out to restaurants, birthday parties and Halloween can be fun times for many. But for families living with food allergies, those events can feel like minefields. They must be constantly vigilant to keep their loved ones safe. It is critical for us to utilize our new findings to develop the necessary resources for individuals and families so they can feel more confident and supported."
The parent survey report also identified unmet needs in these areas:
Emotional and social support
Education
Food allergy awareness
Schools
Labeling laws and policies
Financial support
Research
Spotlight on Eosinophilic Esophagitis (EoE)
Eosinophilic [EE-oh-sin-oh-FILL-ick] esophagitis [uh-sof-uh-JIE-tis] – EoE – is a type of non-IgE mediated food allergy that causes swelling in your esophagus. It can make eating difficult and painful. It can also be tricky and stressful to manage. In our report, we highlighted the effects of managing EoE and the impact it can have on families.
Acknowledgements
The My Life With Food Allergy parent survey is an independent research project of the Asthma and Allergy Foundation of America with support from DBV Technologies.
References
1. Gupta, R.S., Warren, C.M., Smith, B.M., Blumenstock, J.A., Jiang, J., Davis, M.M. Nadeau, K.C. (2018). The Public Health Impact of Parent-Reported Childhood Food Allergies in the United States. Pediatrics 142(6). doi:10.1542/peds.2018-1235.
2. Gupta, R. S., Warren, C. M., Smith, B. M., Jiang, J., Blumenstock, J. A., Davis, M. M., . . . Nadeau, K. C. (2019). Prevalence and Severity of Food Allergies Among US Adults. JAMA Network Open,2(1). doi:10.1001/jamanetworkopen.2018.5630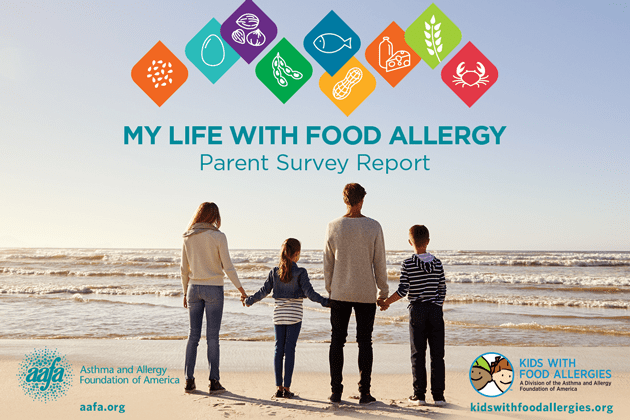 Allergy Capitals
Your location can have an impact on your seasonal allergies. AAFA's Allergy Capitals™ report looks at the top 100 most challenging cities in the continental United States to live with seasonal pollen allergies.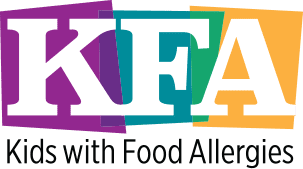 KFA is dedicated to saving lives and reducing the burden of food allergies through support, advocacy, education and research.