In early 2017, the Asthma and Allergy Foundation of America (AAFA), with support from AstraZeneca, conducted a survey on living with asthma.
The My Life With Asthma online survey gave insight into the different challenges and experiences those with asthma, especially severe asthma, face.
The national three-part study about asthma in the U.S. included three survey populations:
Adult patients with asthma
Caregivers of adults with asthma
Health care professionals who care for adults with asthma
The goal of the study was to better understand the burden of asthma, especially severe asthma. The more we know about severe asthma, the more we can change how we talk about it. We want these discussions to focus on those with severe asthma.
There were 804 people who qualified to participate in the survey. We asked them questions about:
Quality of life due to asthma
Severity of asthma
Knowledge of asthma
Thoughts and beliefs about asthma
Here are some of the findings about those with severe asthma from this survey:
97 percent report that their asthma limits their everyday tasks
93 percent said their asthma negatively affects their physical health
83 percent said asthma affects their personal relationships with family, spouses/partners, friends, co-workers
78 percent said asthma was always in the back of their mind
76 percent said they feel frustrated by their asthma
71 percent said asthma negatively affects their emotional health
55 percent had symptoms more than once a day
48 percent used their quick-relief inhaler more than once a day
41 percent said they believe their asthma is so severe that there are no medicines that can make it better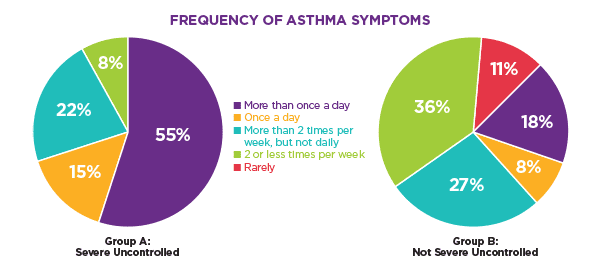 The results of this study will help us improve educational materials and raise awareness about asthma.
Acknowledgements
My Life With Asthma was sponsored by AstraZeneca.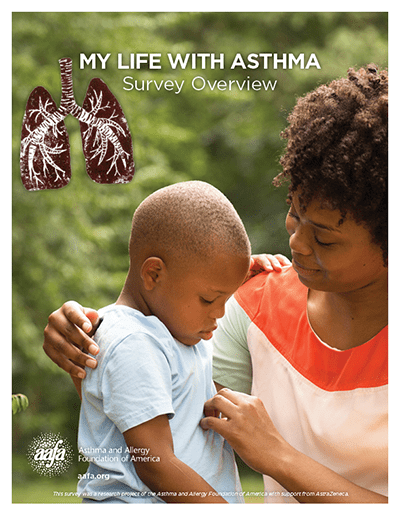 Asthma Capitals
Where you live can have an impact on your asthma. AAFA's Asthma Capitals™ report looks at the top 100 most challenging cities in the continental United States to live with asthma.