Resources for Schools & Care Centers
5.1 million children have asthma
5.6 million children have food allergies
9.6 million have atopic dermatitis
Asthma is the top reason students miss school. With these numbers, there's a chance most classrooms in the U.S. will have a student with an allergic disease.
The Asthma and Allergy Foundation of American (AAFA) has created this list of resources to help school administrators, nurses, and staff manage asthma and allergies in the classroom.
COVID-19 and Asthma Toolkit for Schools (printable PDF)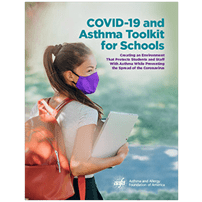 This toolkit and resource guide is designed to help schools create environments that help protect students and staff with asthma while preventing the spread of the new coronavirus (SARS-CoV-2) that causes COVID-19.
State Honor Roll from Asthma and Allergy Foundation of America (AAFA)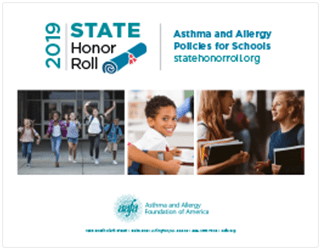 This is an annual report by AAFA to help identify states with the most comprehensive public policies supporting people with asthma, food allergies, anaphylaxis, and related allergic diseases in grade schools. Find out how your state ranks.
School-Based Asthma Management Program – (SAMPRO™)
(Visit AAAAI.org)
The American Academy of Allergy, Asthma & Immunology (AAAAI) led a stakeholder workforce that included AAFA to create SAMPRO™. AAFA officially endorses this program. This toolkit was created to improve the care of students with asthma at school. It includes resources to help your school adopt SAMPRO
Managing Asthma in Schools – Centers for Disease Control and Prevention (CDC)
(Visit CDC.org)
The resource from the CDC includes information on asthma management in schools. With links to "Strategies for Addressing Asthma within a Coordinated School Health Program" and "Asthma-Friendly Schools Toolkit."
National Association of School Nurses (Visit NASN.org)
NASN provides various resources and educational tools to help nurses fulfill their mission to "optimize student health and learning by advancing the practice of school nursing."
Ally & Andy's Asthma and Allergy Activity Book (printable PDF)
This coloring and activity book gives children and families a fun way for children to learn common asthma triggers. It also helps them learn how to manage their asthma and food allergies. It can also help children without asthma and allergies better understand these conditions. (Available in English, Spanish, and Arabic)