It's the season for sneezing and itching! If you live in one of the top 2023 Allergy Capitals™, use AAFA's tips to manage your seasonal pollen allergies and improve your quality of life.
2023 Allergy Capitals: Full Report
More than 100 million Americans live with various types of allergies every year.1,2 ​Many of them have seasonal pollen allergies. AAFA's yearly Allergy Capitals report explores how challenging it is to live with seasonal allergies in the top 100 U.S. cities.*
The report looks at these important factors:
Tree, grass, and weed pollen scores
Over-the-counter allergy medicine use
Availability of board-certified allergists/immunologists
This year's report named Wichita, Kansas, as the top 2023 Allergy Capitals due to its:
Worse-than-average tree and grass pollen
Higher-than-average allergy medicine use
Fewer board-certified allergists/immunologists
*AAFA studied data from the 100 most-populated U.S. Metropolitan areas.
The top 10 most challenging places to live with seasonal allergies are:
Report Highlights
This year's report focuses on three topics related to seasonal allergies:
Self-care for allergic rhinitis
Pollen sensors
Climate change and allergies
Self-Care for Seasonal Allergies No Matter Where You Live
In the spring, the warm weather brings people outdoors to face one of the season's biggest problems: tree pollen. Grass pollen follows later in spring into summer. Then in the late summer and early fall, weed pollen – especially ragweed pollen – can trigger symptoms just as kids are returning to school. And some parts of the United States now have pollen year-round.
Common symptoms of allergic rhinitis caused by seasonal allergies include:
Sneezing
Stuffy nose (due to blockage or nasal congestion)
Runny nose (also known as rhinorrhea – usually a thin, clear discharge)
Red, and watery eyes
Itchy nose, eyes, ears, or mouth
Swelling around the eyes
If you have allergic rhinitis, you can manage your allergy symptoms with self-care and an allergy treatment plan. If you have allergic asthma, managing your seasonal allergies can help you manage your asthma too.
Now more than ever there are a number of available and accessible options to help you find relief. Work with your doctor to include the steps below in your allergy treatment plan:
Manage your contact with pollen
Take allergy medicine
Rinse out your nose
Ask your doctor about immunotherapy
Learn more about self-care for allergic rhinitis and ways you can find relief in our report.
The Role of Pollen Sensors
Pollen sensors monitor pollen throughout the United States. This helps in the diagnosis and treatment of allergies, studying the impact of climate change, and producing crop forecasts. They can also help people with allergic rhinitis and allergic asthma know when pollen counts are high in their areas so they can better manage their symptoms.
But there aren't enough pollen sensors in the U.S. to get accurate pollen counts for everyone. The 2023 Allergy Capitals report looks at the importance of pollen sensors, types, and possible solutions to improve pollen monitoring.
Climate Change and Allergies
The science clearly shows that communities across the nation are seeing the health impacts of climate change, causing a public health emergency. Everyone's health is at risk, especially infants, children, seniors, low-income communities, communities of color, people with disabilities, and people with chronic diseases like asthma or who are pregnant.
Climate change is creating:
More ground-level ozone
Longer and stronger pollen seasons
Worsening of urban heat islands
If we don't slow down the cycle, pollen production and air pollution will only get worse. Millions of people already have seasonal allergic rhinitis, and pollen allergies are a major cause. If this cycle continues, we may see the number of people with seasonal allergies increase.
The 2023 Allergy Capitals report outlines the increasing threat of climate change on people with allergies and asthma.
Products to Help You Reduce Your Exposure to Pollen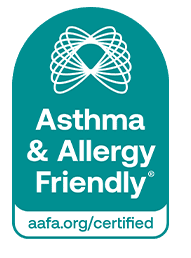 Along with the self-care steps listed in the report, CERTIFIED asthma & allergy friendly® products can also help you manage your contact with pollen inside your home and have better indoor air quality. Through the asthma & allergy friendly® Certification Program, we have tested and certified products to help you reduce allergens in your home. When you are shopping for products for your home, look for the CERTIFIED asthma & allergy friendly® mark.
Visit aafa.org/certified to search for CERTIFIED products and learn more about our program.
The 2023 Allergy Capitals report is an independent research project of AAFA and is made possible by a research support grant from the Consumer Healthcare Products Association.
Recommended Citation
Asthma and Allergy Foundation of America, (2023). 2023 Allergy Capitals. Retrieved from allergycapitals.com.
Media Inquiries
For media and related inquiries, contact gro.afaa@aidem.
References
1. Ng, A.E. & Boersma, P. (2023). NCHS Data Brief, no 460: Diagnosed allergic conditions in adults: United States, 2021. National Center for Health Statistics. https://dx.doi.org/10.15620/cdc:122809
2. Zablotsky, B., Black, L.I., & Akinbami, L.J.(2023). NCHS Data Brief, no 459: Diagnosed allergic conditions in children aged 0-17 years: United States, 2021. National Center for Health Statistics. https://dx.doi.org/10.15620/cdc:123250