The Asthma and Allergy Foundation of America's (AAFA) Health Equity Advancement and Leadership (HEAL) program addresses health disparities in communities that bear the heaviest burden of asthma. Promoting health equity is a core value and mission-critical priority of AAFA.

Health equity is the state in which everyone has a fair and just opportunity to reach their highest level of health. Achieving this requires focused and ongoing societal efforts to:
Address historical and contemporary injustices
Overcome economic, social, and other obstacles to health and health care
End preventable health disparities
Health Disparities
If a health condition, like asthma or allergy, affects one group of people differently than another group, it is a health disparity.
Health disparities not only have an impact on affected groups but also limit the overall quality of health care for the entire population.
Asthma and allergies can affect any person, but they don't affect everyone equally. Asthma rates, deaths, and hospitalizations are often different for people based on their income or race/ethnicity. These differences in asthma are documented by a large amount of research. Researchers are also trying to better understand racial/ethnic differences when it comes to other diseases, such as allergies or eczema.
Health disparities exist when the difference in health outcomes across different groups of people is caused by systematic (carefully planned), avoidable, unjust policies and actions.1
The major causes of health disparities in asthma and allergy include:
Systemic racism (including bias in health care, segregation, discrimination, and historical trauma)
Social determinants (such as socioeconomic status, education, neighborhood and physical environment, employment, social support networks, and access to health care)
AAFA's Commitment to Creating Health Equity: HEAL Program
The Asthma and Allergy Foundation of America's (AAFA) mission is to save lives and reduce the burden of disease for people with asthma and allergies through support, advocacy, education, and research. We can only achieve our mission if we focus efforts on promoting equity. We know the issues contributing to health inequities are complex and require strong, coordinated efforts to address the systems, policies, and biases that are causing harm to many communities.
In May 2022, AAFA launched the new Health Equity Advancement and Leadership (HEAL) program to address findings from our Asthma Disparities in America report. The HEAL program reinforces AAFA's commitment to drastically reducing the burden of asthma in communities that bear the heaviest burden of asthma.
HEAL Innovation Awards
As part of AAFA's HEAL program, AAFA is funding four local interventions (programs) through our new HEAL Innovation awards.
HEAL Innovation is a multiyear project with the goal of building and supporting community-based interventions to address inequities in asthma. Each year, HEAL Innovation will award funding and resources to four local, pilot programs tailored to at-risk populations most impacted by asthma.
The overall goal of HEAL Innovation is to reduce asthma deaths and illness among high-risk populations. This is done by partnering with and strengthening local community programs. Because all asthma is local, AAFA recognizes the importance of combining national leadership with community-driven action.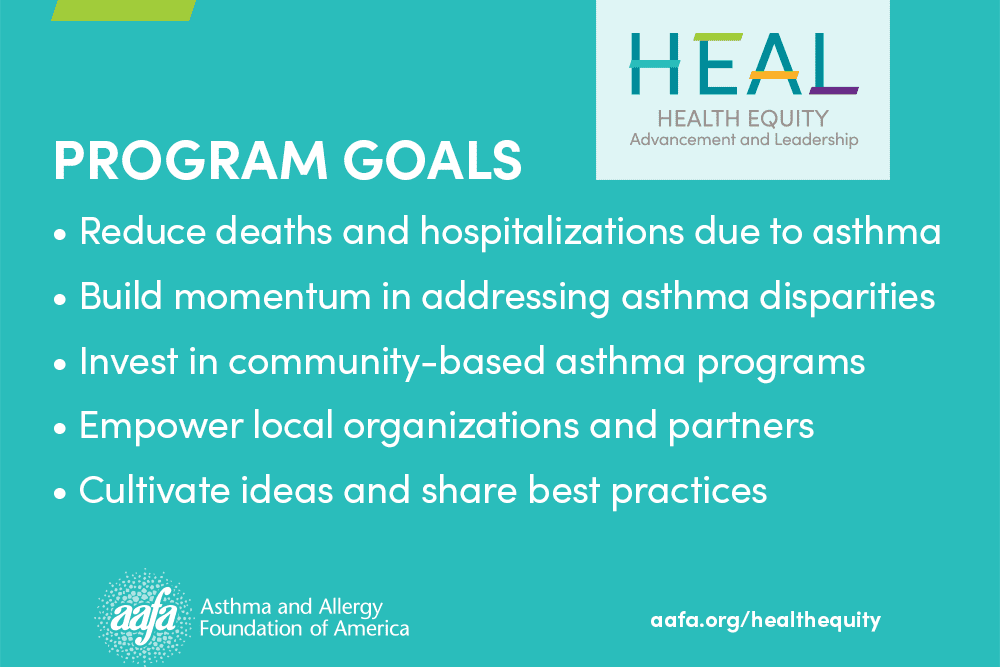 The first year of HEAL Innovation will run through mid-2023. In this first year, AAFA is funding programs in Chicago, Detroit, Los Angeles, and St. Louis.
The focus of these four pilot programs will be on adults and teens with asthma. While there are many proven and effective community-based asthma programs for children with asthma, there are very few programs that serve adults. We hope to use best practices from pediatric programs to build successful programs for adults and teens through these HEAL Innovation awards.
Over the course of the first year of HEAL Innovation, AAFA will work with local partners to collect and analyze data in the four selected cities. The purpose of this data is to measure the success of the programs. The long-term vision is that AAFA's investment in these pilot programs will allow our local partners to seek sustainable funding from payors and other healthcare stakeholders in the future.
The first year of HEAL Innovation is supported by a $1 million sponsorship from Amgen
Press Release: Health Equity Advancement and Leadership (HEAL) Program 
AAFA supports and works with local community organizations and groups including hospital systems, state asthma control programs, housing advocates and more across the nation. These programs serve disadvantaged populations who are at highest risk of having asthma, needing emergency medical care, or even dying from asthma.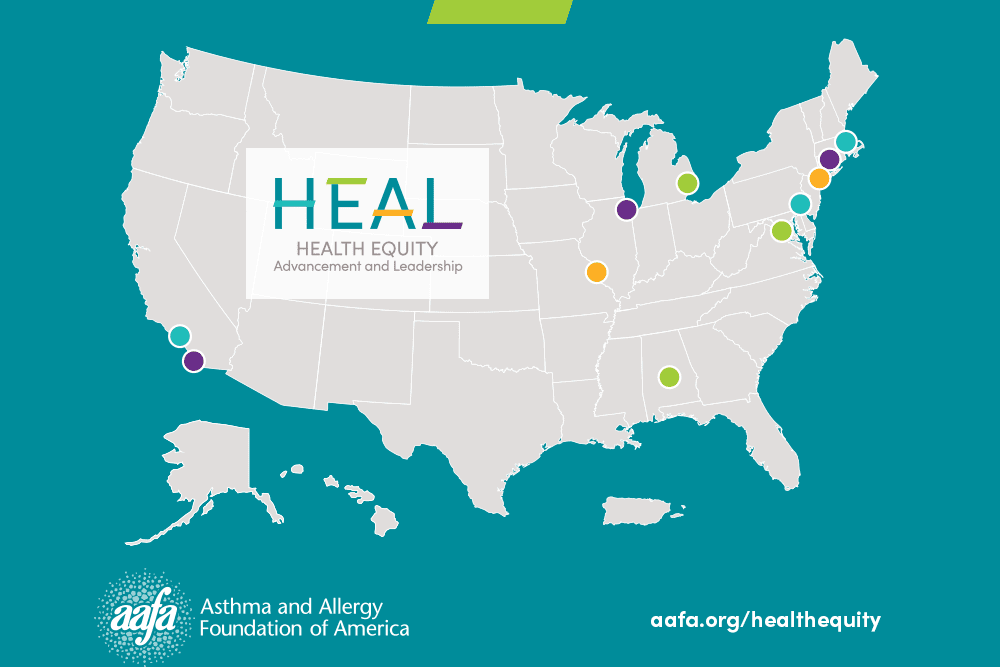 Closed Accordion
Chicago
Chicago is one of four HEAL Innovation sites for the first year of the program. AAFA is working with the American Lung Association in Greater Chicago to launch a pilot program for adults and adolescents with asthma. The program will include asthma education, home visits, and other resources for families managing asthma in the Chicago area. AAFA and the Lung Association are members of the Chicago Asthma Consortium.
Connecticut
AAFA is working with the Connecticut Department of Public Health to serve people with asthma in Bridgeport, Hartford, and New Haven. The program will feature AAFA's ASTHMA Care for Adults curriculum.
Detroit
Detroit is one of four HEAL Innovation sites for the first year of the program. AAFA will work in partnership with the AAFA Michigan Chapter (AAFA-MI) to conduct this pilot program. AAFA-MI will implement a multi-component intervention that will improve asthma control through general health and wellness, access to specialty care, assessment of home environments, and asthma self-management education. This program will serve 50 or more families in the greater Detroit area.
Los Angeles
Los Angeles is one of four HEAL Innovation sites for the first year of the program. AAFA will work in partnership with Breathe Southern California (Breathe SoCal) to launch a pilot program that will address the needs of adults with asthma in underserved communities of Southeast Los Angeles County.
New York
AAFA is funding a pilot program by AIRnyc to connect 50 households managing asthma with health education, health care, and social programs. As an innovator in community health, AIRnyc works to improve health outcomes while reducing disparities throughout New York City. AIRnyc leads a variety of partnerships and pilot programs with health care delivery organizations, Managed Care Organizations (MCOs), and other stakeholders including community-based organizations, government agencies, and health technology companies. For two decades, AIRnyc's Community Health Workers have provided in-home services for families who are managing asthma and complex social needs by providing easy-to-understand health education and facilitating connections to health care and social services. Published results regarding AIRnyc's asthma intervention with the NYC Health and Hospitals system showed a 25% reduction in hospitalizations. Data from a Bronx community hospital partner showed a 51% reduction in asthma admissions and a 21% reduction in Emergency Department use because of the program.
With the New York State Energy Research and Development Authority (NYSERDA), AAFA is supporting the Building Better Homes and Buildings of Excellence initiatives which will advance carbon-neutral homes with better air quality in disadvantaged communities. This collaboration will raise awareness about the importance of indoor air quality and how it affects people with asthma and allergies throughout New York State. NYSERDA's mission is to advance clean energy innovation and investments to combat climate change, improve the health, resiliency, and prosperity of New Yorkers, and deliver benefits equitably to all.
Philadelphia
AAFA provided the Community Asthma Prevention Program (CAPP) at the Children's Hospital of Philadelphia (CHOP) with donations of CERTIFIED asthma & allergy friendly® products. The goal was to improve the indoor air quality for 30 high-risk families living in predominantly Black neighborhoods located near fuel and gas refineries. CAPP offers a comprehensive and sustainable community-driven asthma management program for Black, low-income families. CAPP's program implements asthma self-management education in the child's home, community, school, and health care environments.
San Diego
AAFA (with support from Sanofi Genzyme and Regeneron) provided Rady Children's Hospital with a $200,000 grant to expand their AAFA Severe Asthma Program and their Community Approach to Severe Asthma (CASA) program. A clinical team of pediatric allergist/immunologists, pulmonologists, pharmacists, social workers, respiratory therapists, and registered nurses evaluate each patient and work together to ensure complete care and self-management education is provided from each team member. Children who are seen in the clinic can be referred to the CASA program, connects high-risk, low-income children and their families with trained community health workers (CHWs). Over half of the children in the program are insured by Medi-Cal (California's Medicaid program). CHWs help families find and reduce asthma triggers in the home. They also provide free resources and allergen-control products to help reduce these triggers. Rady Children's location near the U.S.-Mexico border positions it to serve a large Hispanic population.
St. Louis
St. Louis is one of four HEAL Innovation sites for the first year of the program. AAFA will work in partnership with the AAFA St. Louis Chapter and Oasis St. Louis to launch a new home visit program for older adults with asthma. The program will include routine check-ins, coordinate care with an asthma specialist, and provide CERTIFIED asthma & allergy friendly® products for the home.
Washington, DC
AAFA provided Children's National Hospital's comprehensive pediatric asthma program, "Improving Pediatric Asthma Care (IMPACT DC), and its partner home visiting program, Breathe DC, with donations of CERTIFIED asthma & allergy friendly® products. These products helped 50 high-risk families in predominantly Black neighborhoods address allergen triggers in their homes. IMPACT DC aims to reduce asthma-related emergency room visits and hospitalizations through clinical care and education. Enrollment in IMPACT's asthma clinic is triggered by recent emergency room visits and hospitalizations among children with poorly controlled asthma. The program offers individualized asthma education and facilitates care coordination among patients, primary care physicians, specialists, case managers, and school personnel. IMPACT also refers patients to home visitor programs, prescription assistance programs, financial counseling, Medicaid enrollment, legal services, tobacco cessation, and other social programs.
We are grateful for the sponsorships, financial contributions, and in-kind gifts that make AAFA's HEAL program possible:
American College of Allergy, Asthma, and Immunology
Amgen
AstraZeneca
Centers for Disease Control and Prevention (CDC)
Genentech
National Minority Quality Forum
Novartis
Omron
PhRMA
Rabbit Air
Sanofi and Regeneron
Tarkett
Viatris
For more information on supporting AAFA's health equity programs, contact gro.afaa@htlaeh.