Asthma Disparities in America
The burden of asthma in the United States falls disproportionately on Black, Hispanic and American Indian/Alaska Native people. These groups have the highest asthma rates, deaths and hospitalizations.
AAFA's Asthma Disparities in America report examines how asthma affects Black, Hispanic and Indigenous populations in the United States. This report is an update to AAFA's 2005 report on asthma disparities.
Over the past 15 years, there have been moderate advances in U.S. public policy, health care and research, but racial gaps in asthma outcomes have not changed. Minority groups continue to bear disproportionate hardship in managing asthma.
The report reviews the current state of asthma disparities and serves as a national call to action to fix the social inequities caused by structural racism that continue to plague vulnerable, at-risk patients and families with asthma.
AAFA remains committed to taking bold actions to facilitate significant improvement and building collaboration with federal, state and non-governmental entities and individuals who share the similar goal to save lives and reduce the harm and unequal burden of asthma on underserved groups.
Closed Accordion
What Is a "Disparity"?
If a health condition, like asthma, affects one group of people differently than another group, there is a "health disparity."1 Health disparities exist based on factors such as race, ethnicity, age, sex, geography, disability and citizenship status. Vulnerable populations may include low-income individuals, women, children, older adults and individuals in rural and tribal areas. These populations are not mutually exclusive.
Facts About Disparities in Asthma
In asthma, significant differences exist based on race and ethnicity. Black, Hispanic and Indigenous people in the U.S. are disproportionately burdened by asthma. These differences are not new.
Infographics Highlighting the Burden of Asthma on Black, Hispanic, and Indigenous Americans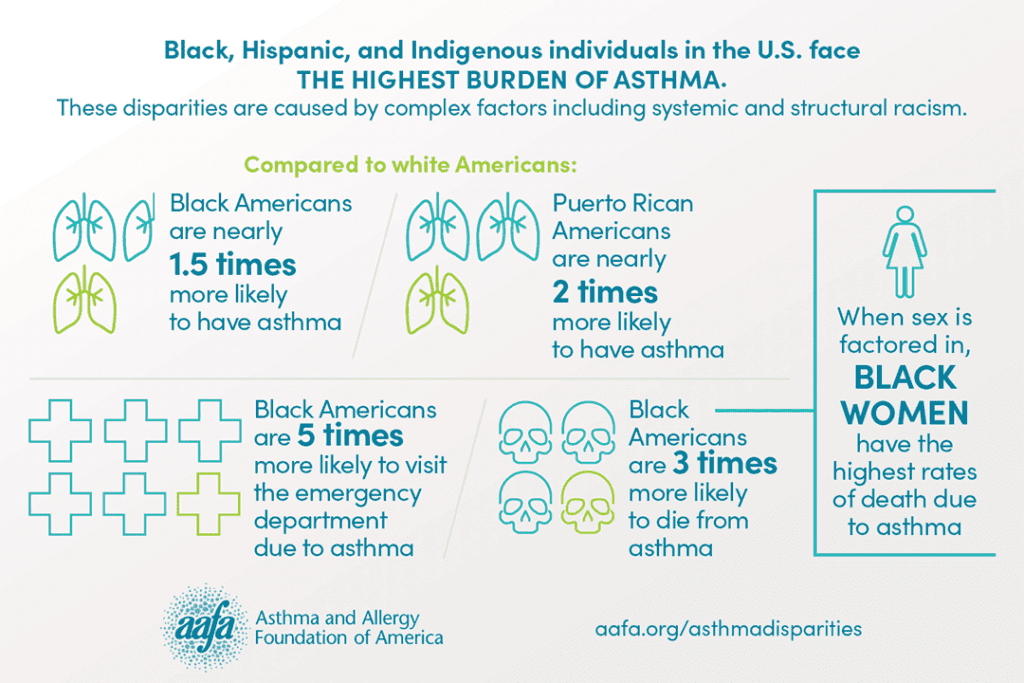 Click on each image for a full-size graphic.
What Causes Differences in Asthma?
Racial and ethnic disparities in asthma are caused by complex factors, including:
Structural determinants such as systemic racism, segregation, and discriminatory policies.
Social determinants such as such as socioeconomic status, education, neighborhood and physical environment, employment, social support networks, and access to health care.
Biological determinants such as genes and ancestry.
Behavioral determinants such as tobacco use and adherence to medicines.
Social determinants and structural inequities largely drive disparities in asthma. Factors such as genetics and individual behaviors contribute less to asthma disparities.
AAFA developed the following conceptual framework for root causes of asthma disparities, adapted from several existing models, including the World Health Organization's Conceptual Framework for Action on the Social Determinants of Health and Healthy People 2020's "place-based" organizing framework. AAFA's model specifically highlights the overwhelming role of race and ethnicity in amplifying social, structural, and individual stressors.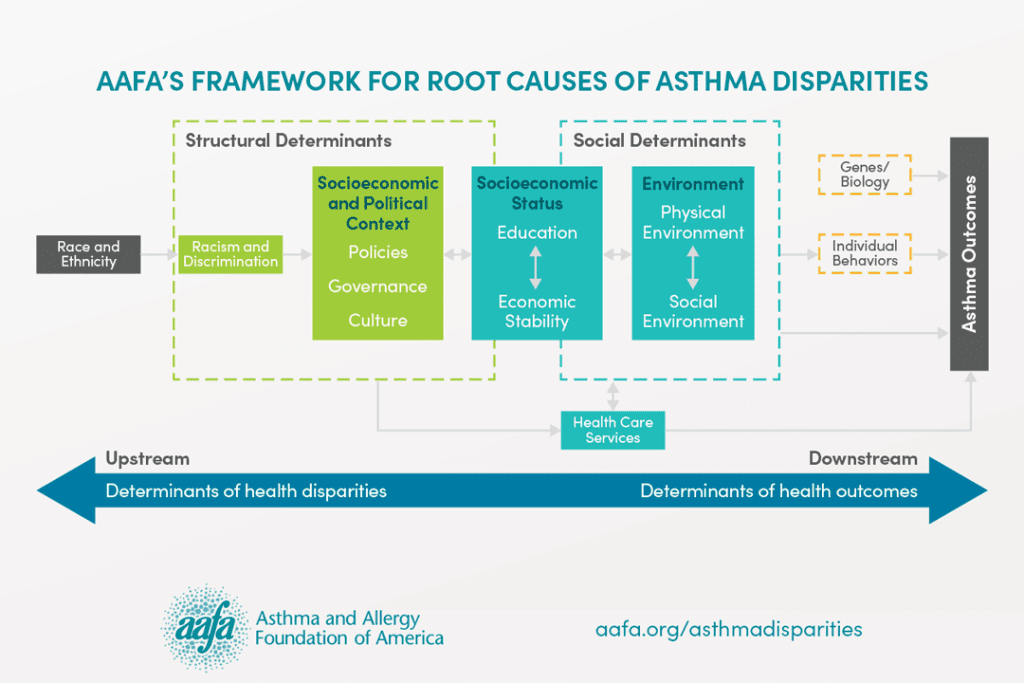 Working Together to Reduce Asthma Disparities
Equity in asthma is only possible if all partners work together toward the goal of reducing disparities. Partners include patients/families, health care professionals, researchers, biotech and pharmaceutical companies, educators, schools, community leaders, government agencies, health care systems, health care payers, employers, national and local associations, funders, advocates, policymakers/legislators and the media.
Each group brings a unique perspective. Together, we can build effective programs/interventions that improve asthma outcomes, conduct critical research to advance science and knowledge, and support policies that promote health equity.
Strategies to Improve Asthma Health in Underserved Populations
Experts have recognized differences in asthma for many years. Recently, the focus has shifted from describing this problem to finding solutions for it. There is no single, specific solution to the problem of disparities. Solutions must be holistic and target the complex factors that lead to increased burden on racial and ethnic minority populations.
Emerging approaches toward effective, sustainable and scalable solutions include:
Public policy reform
Direct interventions to improve asthma self-management
Community-based programs
Advancement in research and science
AAFA's Asthma Disparities in America report identifies 69 strategies to address disparities. Because a holistic approach is necessary, some strategies focus on reducing health disparities overall and are not specific to asthma. For the same reason, some strategies focus on improving asthma care overall and are not specific to racial and ethnic disparities.
Read the report to see the full list of strategies. Examples include:
Improve coverage of asthma guidelines-based care and treatments by expanding specialist care coverage, lowering copays, expanding eligibility criteria, and removing prior authorization and step therapy barriers
Encourage and incentivize state and local health departments to adopt comprehensive community asthma programs
Directly finance or support reimbursement models for programs that align asthma clinical interventions with home assessments, indoor environment improvements and remediations to reduce asthma triggers
Combat environmental injustice and reduce exposure to pollution by strengthening clean air policies, reducing transportation-related emissions, restricting zoning of polluting sources and transitioning to a clean energy economy
Develop and implement training programs for health care professionals to identify asthma patients with social determinants of health-related issues and build community partnerships to match patients with local resources
Educate nurses, health educators, community health workers, and promotoras to provide guidelines-based asthma care and patient education on new treatments
Offer personalized, culturally-appropriate asthma action plans using the patient's and caregivers' language and wording
Expand adoption of comprehensive asthma AS-ME education programs for high-risk populations
Support and expand programs for community health workers, promotoras, nurses, social workers and certified asthma educators to conduct home-based assessments and interventions
Increase representation of African-ancestry, Indigenous American-ancestry, and admixed populations in genomics datasets to support genome-wide research in underrepresented populations
Invest in the development of precision medicine for asthma
Significantly increase participation of Black, Hispanic, and Indigenous Americans in clinical trials
Support research to inform interventions to reduce asthma disparities and collaborate to ensure the translation of research findings to policy and practice
Conduct further research studies and tests among racially and ethnically diverse populations to discover successful strategies that show increased patient adherence to proven asthma management strategies and medicines
Facilitate collaboration between federal, state and local agencies and non-governmental organizations to aid in promoting effective policies/programs to reduce asthma disparities
Address cultural stigmas and myths about research among minority populations and build trust in medical establishment and particularly in minority research
Improve trust in health care by engaging diverse patients and families at the onset of program, policy, and research development
Ensure successful patient and family member engagement by establishing transparent processes, identifying mechanisms to act on patient and family input, and properly training health care and research staff on implementing patient and family engagement strategies
Include community partners as early as possible when developing asthma care or research programs
For more information, read the report below or download it as a PDF: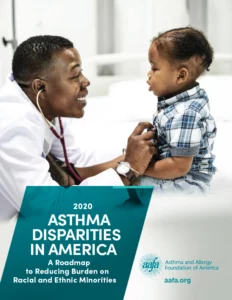 Recommended Citation
Asthma and Allergy Foundation of America, (2020). [Asthma Disparities in America: A Roadmap to Reducing Burden on Racial and Ethnic Minorities]. Retrieved from aafa.org/asthmadisparities.
Media Inquiries
For media and related inquiries, contact gro.afaa@aidem.
Acknowledgements
The Asthma Disparities in America report is made possible by financial contributions from the following partners: AstraZeneca, Genentech, Novartis, Pharmaceutical Research and Manufacturers of America, and Sanofi Genzyme and Regeneron Pharmaceuticals. The views and opinions expressed in this report are those of the AAFA authors and do not necessarily reflect the policies or positions of other individuals, organizations, or companies.
Past Reports
AAFA and the National Pharmaceutical Council created the report, Ethnic Disparities in the Burden and Treatment of Asthma. This report talks about the health disparities found between Hispanic, Black and white populations. This report looks at the genetic, environmental and behavioral causes of asthma. This report also looks at ways the causes of asthma can be reduced.
References
1. Healthy People 2020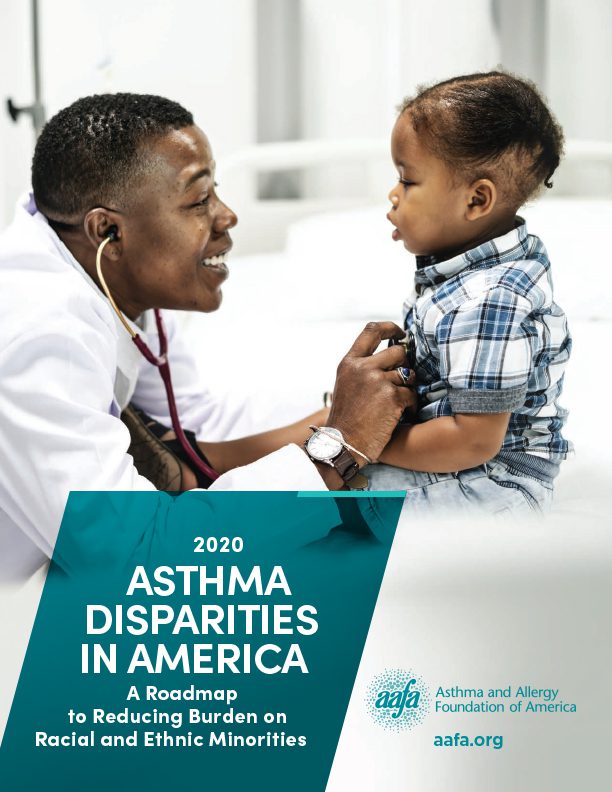 Asthma Capitals
Where you live can have an impact on your asthma. AAFA's Asthma Capitals™ report looks at the top 100 most challenging cities in the continental United States to live with asthma.